Climate change novice? Lottery funds available…
Grants of between £1,000 and £10,000 are being made available via the 'Together for our Planet' scheme
Grants of between £1,000 and £10,000 are being made available via the 'Together for our Planet' scheme, which is aimed specifically at newcomers to climate change.
"Projects should reflect what matters to your community and can be small in scale – they could cover areas such as food, transport, energy, waste and consumption, or the natural environment," said a spokesperson. "You don't need to be an expert in any of these areas to apply – we're particularly interested to hear from people starting to think about taking action on climate change in their communities." 
Please contact the Parish Council Secretary / use the contact form for details.
Traffic Survey
A traffic survey was developed at the request of Grindleford Parish Council. 410 surveys were distributed, and 129 were returned.
The survey included details of car ownership, walking and cycling, traffic and parking issues and bus use.
You can read or download the details here:
Traffic survey report  
Comments from residents  
The questionnaire / form
 TRAFFIC CONCERNS IN GRINDLEFORD
TRAFFIC SURVEY: PLEASE DON'T FORGET! We can still take them you haven't done yours. Middle of May by the latest please.
Grindleford Parish Council is keen to address the traffic issues we all experience in the village. Safety is, of course, the primary concern, but an increasing problem is the way in which traffic movements affect – indeed invade – our lives.
We hope very much that you have found time (and interest) to fill in the Grindleford Traffic Survey. The resulting data from these surveys will strongly influence the Parish Council's ability to manage change.
At the time of writing, Derbyshire County Council's intervention on county-wide speeding is to put controlling measures in place only when fatalities reach a defined number. We all know that this approach denies life-saving action and that prevention is safer, reduces costs and protects the most vulnerable.
We are hoping to challenge the DCC's out-dated and perilous policy so we're asking the residents to help us to do this.
The intention is to gather reports on 'near misses', bad driving behaviour, dangerous and inconsiderate parking and speeding (where possible). Any reports will be welcome: photographs or webcam footage would be immensely helpful, but verbal accounts are equally valuable. All can be done anonymously if preferred.
We know it's an added layer of commitment when we just want to breathe a sigh of relief at having avoided a near miss, or have a good moan about selfish drivers but if the inconvenience of reporting these incidents results in changed behaviour, it's win-win for all of us.
Please send reports/photos/videos to:
The Clerk to Grindleford Parish Council: grindleparish@gmail.com or to any Grindleford Parish Councillor or deliver to the Community Shop.
And finally –please help us to support Grindleford by filling in the Traffic Survey
Thanks to you all.
Grindleford Traffic Group, April 2021
Highlighting the imminent Traffic Survey
Easter is imminent, six of us can celebrate outdoors come rain or blizzard – or unexpected sunshine and we'll soon be back to super-sleek bobs and cool comb-overs. Meanwhile, for Grindlefordians, the excitement abounds. Along with the eagerly anticipated Grindleford News, with its hot local topics, for every household there is also a Residents' Traffic Survey to complete……
Flooding in Grindleford.  February 2021
We are all too well aware that Grindleford is a village subject to flooding.  There is a worrying trend that it is flooding more often, and more severely; since 2000 it has flooded three times, more than in the previous twenty years, with the one in 2019 being deeper and causing more damage than ever before.  
Charging Points For Electric Vehicles in Grindleford
We were lucky to have a talk by Tom Ricketts on electric charging points at our last (February) meeting. Tom is leading on the topic for Hope Valley Climate Action and has a lot of knowledge which he was good enough to share. Tom also has an electric car so was able to speak with authority from both sides.
Grindleford Parish Council – funded projects up to end of 2020/21 Financial Year
Due to a number of factors Grindleford Parish Council had a fairly substantial underspend at the end of 2020 and has therefore been able to fund a number of projects.  (This underspend was a one-off because of specific circumstances, and the Parish Council is usually at the limits of its budget under normal circumstances.)
The new playground upgrade.  The Council is very pleased to pledge £2,000 for this important project which will benefit the younger residents in the village, who have been hard hit by the pandemic, and their parents; support the pre-school and school; and improve the overall desirability of Grindleford as a place to live.  The Council will continue to look for other ways in which it can support this project.
Safer Roads Green Villages. £250 was donated to support this initiative which aims to find a new and more collaborative approach to the issues of walkers, cyclists and cars in the Hope Valley.
£250 has also been given to the tree planting initiativefor the purchase of tree stock.  Planting will begin when Covid allows in Oxhay Woods, in collaboration with the National Trust.  A small planting project is also planned along the bank in the bonfire field. 
£50 has been donated to the Peak Park towards their initiative to plant sphagnum moss, in order to preserve the peatlands which are in a parlous state.
The Council are also planning to replace the noticeboard, currently at the foot of the bridge.  Current plans are to resite it nearer to the village noticeboard by the bus stop, so that it is easier to check notices on both boards at the same time.
Wildflower road verges
Happily, the DDDC has finally come to a sensible decision that wild flower verges are to be positively promoted which is a big step forward and should help to reduce the presumed need for weedkillers. Since we benefit from lengthy verges through the village, we are hopeful that we can promote this important green infrastructure. All highway authorities have statutory biodiversity duties and these obligations support conservation. Happily, species-rich verges are now recognised as 'biodiversity net gain' which is a Government priority.
We need to thank Peter O'Brien for his persistence in this matter with DDDC.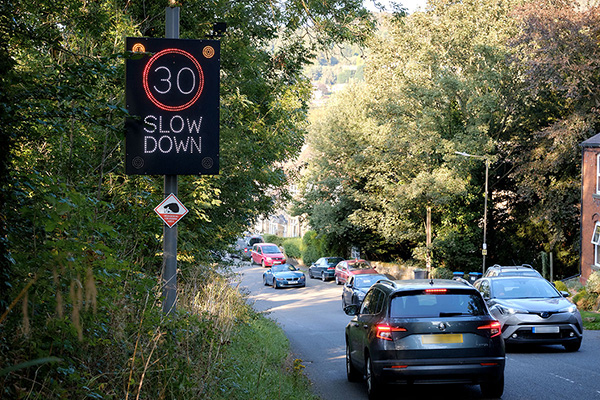 An update on speeding issues
There have been a few more positive steps in the extensive (and extended) speeding issues in the village: a working group is being set up to foster a co-ordinated approach, there will be a liaison with Hope Valley Climate Action, a plan to make roads between villages safer (particularly with the Hope Valley College students' cycling initiative) but focusing on the Grindleford/Hathersage road with its obvious dangers.
Initially, we have five Parish Councillors in the group and already a couple of residents have expressed interest. We invite anyone who would like to take part, or who has particular traffic concerns, to use the Get in Touch box on this website or to contact any one of us. Your input will be welcomed.
Noise at Grindleford Station. 
April 2021:
 The ongoing problem with the way in which Network Rail now use their area at the old Grindleford sidings and the residents of the nearby Midland Cottages and The Windses is not being resolved. There has been a number of meetings recently including one on zoom and one at the Station which were instigated by the Parish Council. However progress on the agreed way forward has come to a standstill. It was decided at a recent Parish Council meeting that the whole process needed a boost to get it back on track. We therefore wrote to our MP Sarah Dines inviting her to meet some of the residents to hear first hand what the problems are and for her to actually see the site. She accepted our invitation and we met at the Station on the 16th April with two members of the Parish Council and representatives of the residents from Midland Cottages and The Windses. Sarah listened to the residents and will take up the issues with both the responsible Government Department and Network Rail. Hopefully this will result in progress on this issue.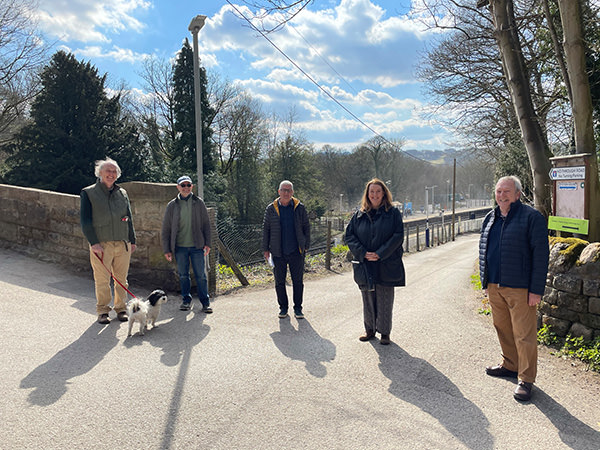 October 2020:
 The residents of Upper Padley and in particular Midland Cottages and The Windses are being affected by an increase in noise levels from the old sidings adjacent to Grindleford Station.
Network Rail have used this area for a long time as a temporary engineering base generally for specific projects in the locality. Over the last six months or so the level of activity and noise has increased significantly to the point where it is frequently 24/7. Despite calls and emails by the residents to Network Rail there has been no reduction in the level of intrusive noise and no explanation of why activity is increasing.
The Parish Council wrote to Sarah Dines MP who contacted Network Rail and passed on the residents comments. Network Rail had promised a meeting with the residents in order for them to listen to the complaints and provide answers/comments and undertakings for future works. The promise of a meeting date was constantly postponed and they used Covid-19 as a reason why a meeting couldn't take place, despite all the recent technological changes now available to enable safe meetings. The more recent interventions by the Parish and District Councils have resulted in Network Rail agreeing to an online meeting with the residents, scheduled for mid October.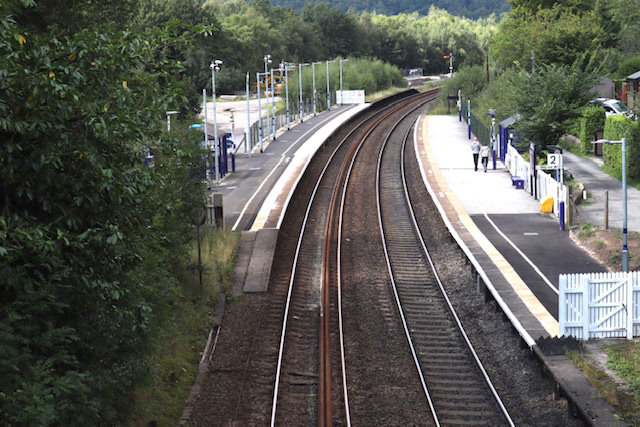 Work at Grindleford Station
As part of the continuing improvements to the rail service it was necessary to increase the length of the platforms of several stations in Hope Valley including Grindleford, to cope with the  proposal of running longer trains.
The original construction dating back to the beginning of the last century could have accommodated the longer trains but as is often the case, without any maintenance the platforms had been allowed to deteriorate over the years. A further more fundamental problem was that the tracks had been banked to enable an increase in the speed of the trains through the station. This resulted in a significant gap between train and platform on the west bound platform.
Network Rail appointed a private contractor, Buckingham Group Contracting Ltd, to carry out the works. We were approached by both Network Rail and Buckinghams with a request to address the PC at our next meeting which they did on 12th September 2019. We were impressed with the sense of responsibility shown towards the local residents by BGC Ltd. and the steps they were proposing to minimise disruption. We discussed the idea of a more public meeting which was duly held in the Sir William Hotel on the 26th September 2019. This meeting was well attended and the proposed schedule of works discussed at length.
The project was carried out and completed by the end of March 2020. There were a few complaints from residents about noise and these were dealt with very quickly by BGC Ltd. to everybody's satisfaction. Various small works were also carried out, free of charge, by BGC Ltd for the local community as a gesture of goodwill, which were well received and appreciated.
A second defibrillator.
The Parish Council agreed at their last meeting to spearhead a move to get a second defibrillator in the village.  We are so spread out, and the time available if anyone needs one is so short, that the Council feel this would a good way to invest some of last year's underspend which was created by the 2019 council election expenses being less than expected.
Terry and Helen have kindly agreed that the one outside the Sir William can be moved to the Pavilion.  The Council has spoken to the East Midlands Ambulance responder unit, who advise that a second defib would be a very good idea and should go where footfall is greatest, which points towards the station/Padley Gorge (an electricity supply is optimal).  If you have any views, thoughts or opinions, please let us know.
Speeding issues in the village
All of us experience the worry of speeding traffic through the village on a daily basis. The variation in speed limits through the whole length of the village is disconcerting for drivers as we have 30mph, 40mph and 50mph sections. At least the traffic lights at the bridge and the parking both sides of the road forces traffic to slow but where the 40mph begins, so does the race track.

The PC is addressing the problem and there is to be a Speed Watch initiative soon in the 30mph location. Additionally, CREST has been notified of the concerns we have in other areas. Another really encouraging enterprise is that of HVCA Safer Roads, Greener Villages and the PC has contributed funding towards this. The gist of the project is to support safe and respectful use of the roads and to promote the necessity of integrating safe driving with all activities – residents, walkers, dogs, cyclists, horse riders etc..
Essentially, all drivers are pedestrians as well so the plan is to foster a positive attitude and to work together.
 The benefits of slowing traffic down are not just the paramount issue of safety but also noise reduction, a decrease in greenhouse gases and a more relaxed quality of life for all residents. We are working on it…….
A New Fence for Jubilee Gardens. 
The gardens had been damaged in the flood of November 2019 and the fencing around the perimeter overlooking the river had been washed away.
The Council were unable to claim from their insurers and therefore it would have to be funded by the Parish. We had considered a number of options but the normal commercial cost of employing a suitable contractor would be considerable in comparison to the budget available. The Council decided to explore options using the experience and contacts of its members.
We were able to arrive at a solution with the Peak Park Ranger unit based in Brunts Barn, Upper Padley. They offered to carry out the works using their volunteers, however Covid-19 prevented it happening as planned. They did come up with the solution of using their own volunteer supervisors to carry out the works as a practical exercise in how future projects will have to be undertaken.
Wildflower Road Verges
Derbyshire County Council still authorises the use of glyphosate to control weeds where they are deemed to be a nuisance to the public. This retrograde and dangerous practice is being challenged by Grindleford PC and many of the PCs in the Hope Valley. Our PC has lodged a firm objection to its use and stated that we do not want it used in our village. Hope Valley Climate Action is also active in supporting a ban. The current use by DDDC's out-sourced contractors is under review and we also have Cllr O'Brien to thank for his determined input with DDDC into the unacceptable use of a carcinogenic substance.
All of which will be a great help for the biodiversity of road verges. This is an initiative instigated nationwide by the conservation charity, Plantlife. The UK has lost 97% of its wildflower meadows since the 1930s. Road verges can provide corridors for diverse animals, birds and invertebrates, together with habitats for plants and friendly environments for bees and insects . Plus allowing verges to grow also sequesters carbon and can help mitigate the immediate effects of vehicle exhaust. And they are a joy to see. Grindleford PC, along with other Hope Valley PCs, is positively promoting our commitment to wildflower verges and we fully support the (albeit slow) initiatives of DDDC to address this over a planned 3 year period. Meanwhile, we hope to take some initiatives in the village as we have extended verges which are pavement free.
Killing Weeds Safely
The Parish Council is urging the District and County Councils to find alternatives to chemical based weed-killers and herbicides for use on roads, footpaths and public areas in the village. We are particularly anxious that they stop using any materials which contain the chemical glyphosate. Glyphosate is considered by the World Health Organisation to be "probably carcinogenic", and its use is soon to be banned in most European Union countries; however the UK Government is still happy for it to be used here.
It's not only glyphosate which is dangerous, many chemicals used in weed-killers are poisonous to wildlife, especially bees, butterflies and other insects, and so can have a devastating effect on biodiversity.
Safer alternatives, such as steam or mechanical weeding, are now used by several local authorities and the Parish Council is optimistic that DDDC and DCC will respond positively to our request.
Peter O'Brien
The Village Telephone Box
The Parish Council has recently bought the village phone box – for the princely sum of £1!
BT disconnected it due to such low use, and planned to take it away. It stands outside what was the former Post Office and will now be restored and repainted, in pillar box red of course.
We will be looking to find a suitable community use – maybe as a community library or for tourist and village information.
Our box is not one of the original Gilbert Scott designs, the famous K2, it is a more modern K6., but will be a wonderful reminder of when the country had a General Post Office and a call cost 4 old pence, by pushing button A, or B to get your money back.
Please don't hesitate to get in touch with us. Either fill in the form or email us.
Your communication will go directly to the Clerk to the Parish Council, who will endeavour to get back to you as soon as possible.